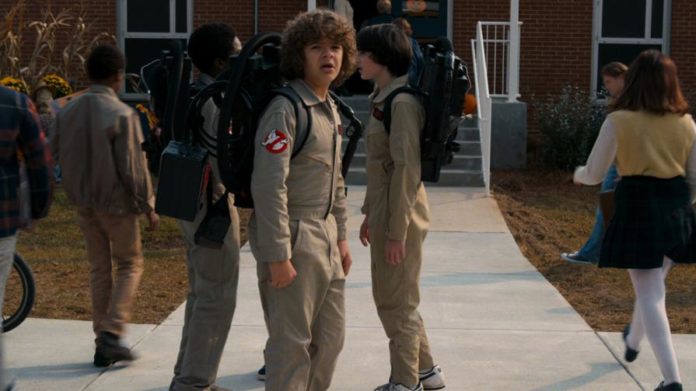 Get ready to return to the "Upside Down"—because it's coming whether you're ready or not.
Netflix released the final trailer for Season 2 of Stranger Things, with the full season arriving Friday, October 27 on the streaming service.
If you thought things were intense the first time around in Hawkins, IN, just wait until you see what the Duffer brothers have in store for the sequel.
The plot of Season 2—sorry, Stranger Things 2—focuses on the aftermath of Will Byers' (Noah Schnapp) rescue from the mysterious "Upside Down". Byers' visions fortell an even greater threat making its way to Hawkins, and it's up to the kids to stop it once again.
Take a look:
Most of the Season 1 cast is back, including the now-shredded David Harbour (who got jacked to play Hellboy in the upcoming reboot for the hero) as Chief Hopper, Winona Ryder as Joyce Byers, Millie Bobby Brown as Eleven, and of course, the boys of Hawkins: Finn Wolfhard as Mike Wheeler, Gaten Matarazzo as Dustin Henderson, Caleb McLaughlin as Lucas Sinclair, and Schnapp as Byers.
But Season 2 is bringing a whole crop of new characters to the mix, including Goonies star Sean Astin as Bob Newby, a former school friend of Joyce and Chief Hopper who runs the local Radio Shack (yay to the 1980s); Paul Reiser as Owens, a Department of Energy executive; and Brett Gelman as Murray Bauman, a journalist turned wild conspiracy theorist.
As great as that final trailer was, it's hard to beat this "thrilling," fist-pumping trailer from San Diego Comic-Con during the summer:
Welcome back to Hawkins. Things are going to be "strange".