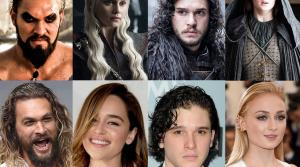 Oubliez les lions, les tigres et les ours (et les loups) – les dragons qui dominent Westeros.
[SPOILERS AHEAD]
Dans le quatrième épisode de la saison, «The Spoils of War», Daenerys Targaryen (Emilia Clarke) a finalement déchaîné ses dragons sur les Sept Royaumes, incendiant les forces de Lannister et laissant le destin de Jaime Lannister (Nikolaj Coster-Waldau) peu clair comme Sa lourde armure l'a coulé sous le sombre Blackwater Rush. (Nous avons le sentiment qu'il va revenir assez tôt.)
Jon Snow (Kit Harington) se rapproche de Daenerys sur Dragonstone, tandis que Cersei Lannister (Lena Headey) devra maintenant essayer de reconstruire ses forces après la défaite ardente.
L'épisode a été rempli de feu, d'explosions et de certaines des scènes de combat les plus dramatiques de la série jusqu'à présent. Le prochain épisode, intitulé «Eastwatch», va probablement mettre en place les batailles à venir pour le reste de la saison, à savoir la guerre avec les White Walkers et leur armée de morts-vivants.
L'aperçu de l'épisode montre l'action du dragon qui est à l'horizon – et la lutte imminente à Eastwatch-by-the-Sea:
Voici un regard sur "Eastwatch" et ce qui pourrait arriver sur le prochain épisode de Game of Thrones .