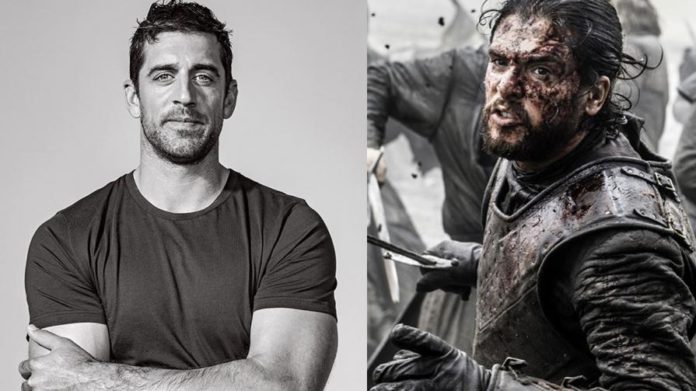 Le quart-arrière de Green Bay Packers, Aaron Rodgers, est un champion du Super Bowl, deux fois MVP de la NFL , Et l'un des athlètes les plus capables de la planète.
Mais pour autant d'une superstar qu'il est, Rodgers est comme tout le monde d'au moins une façon: il aime Game of Thrones .
La série HBO est le plus grand spectacle de télévision au monde, et il est maintenant devenu plus grand maintenant qu'il ne reste plus que deux saisons. La saison 7 termine ses sept épisodes le 27 août, tandis que la saison 8 sera composée de six épisodes, diffusés en 2018 ou 2019.
Pendant le camp d'entraînement, Rodgers a parlé avec The Ringer de son amour pour le spectacle, et a discuté de certains des débats qu'il a avec ses coéquipiers sur toutes les théories concernant ce qui se passe à Westeros. Rodgers a comparé Thrones à un autre spectacle avec lequel il était obsédé, disant qu'il trouve la série HBO d'être «le premier spectacle, pour moi, aussi intriguant et aussi intéressant que Lost. "
Attention: SPOILERS suivra certainement.
Voici tout ce que Rodgers a dit au sujet de son amour pour Game of Thrones, et ses personnages favoris, les théories et les moments du spectacle:
Sur ses personnages préférés:
"Je suis un grand fan de Jon Snow. J'aime Arya, car elle est de retour dans le mélange maintenant. Elle est en train de combattre avec Brienne de Tarth, ce qui était un moment bizarre, je pense, pour Sansa ", a déclaré Rodgers. "Pour voir sa petite soeur, qui est incroyable, et maintenant [Sansa] sait [Arya] a cette liste que [Sansa] pensait [Arya] plaisantait-mais non, elle a probablement été en train de tuer des gens."
Sur ses théories préférées, dont une très populaire qui implique Jon Snow (Kit Harington), Daenerys Targaryen (Emilia Clarke) et Tyrion Lannister (Peter Dinklage):
"Je pense que Jon Snow, Daenerys et la Main de la Reine [Tyrion Lannister] – Je pense qu'ils sont tous liés. Trois dragons, trois cavaliers, trois frères et sœurs ", a déclaré Rodgers. "Nous savons par Bran, The Three-Eyed Raven, que Ned Stark n'était pas le père de Jon Snow. Et cela pourrait faire de Daenerys et Jon [relatives]. Ensuite, Tyrion, nous ne savons pas qui est sa mère, avec qui Tywin a dormi. Le Roi fou pourrait avoir été son père, je pense qu'il y a une sorte de relation. Au moins Jon Snow et Daenerys vont travailler ensemble, et ils minent le verre de dragon. "
Voulez-vous plus d'informations sur cette théorie des Thrones? Découvrez cette vidéo ou cet explicateur pour les détails.
Sur Cersei Lannister (Lena Headey):
"Oh, j'aimerais voir Cersei avoir sa tête effacée", a déclaré Rodgers.
"J'espère que plus de choses se passent comme ce qui s'est passé dans ["The Spoils of War"]", a déclaré Rodgers. "Episode fantastique, écriture phénoménale".
The deux de ses derniers spectacles préférés: