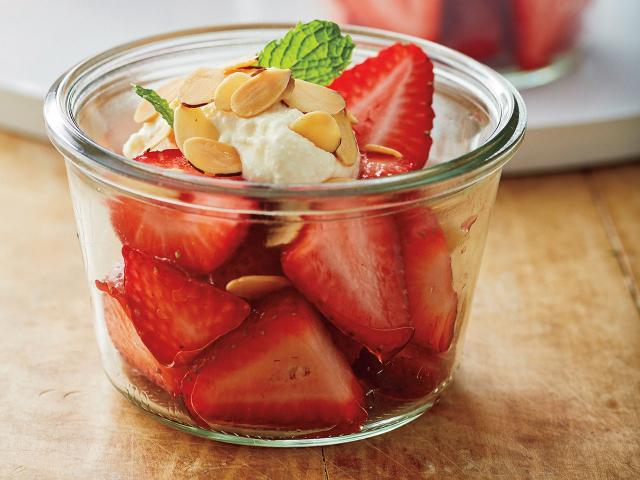 Nothing screams summertime like fresh fruit, so take advantage of the season's best offerings and whip up this strawberry dessert.
Best of all, the whipped 'cream' won't set your diet back. It's made from part-skim ricotta cheese. 
[RELATED1]
Pro tip from Chef Bobby Flay: Straining the ricotta to drain excess liquid makes the dessert's "cream" even thicker.
Nutrition (per serving): 189 calories, 8g protein, 23g carbs, 7g fat
Ingredients
1 1/2 cups part-skim ricotta cheese
2 tbsp light brown sugar
2 tbsp orange juice
1 tsp orange zest
1 lb fresh strawberries, hulled and sliced
1/2 cup toasted sliced almonds
Fresh mint
How to make it
Place ricotta in a small strainer over a bowl and refigerate for at least 2 hours and up to 8 hours.
Transfer strained ricotta to a bowl, add brown sugar, orange juice, and zest and whisk until light and fluffy.
Divide strawberries among 8 bowls and top each bowl with a dollop of the "cream" and garnish with almonds and mint sprigs.