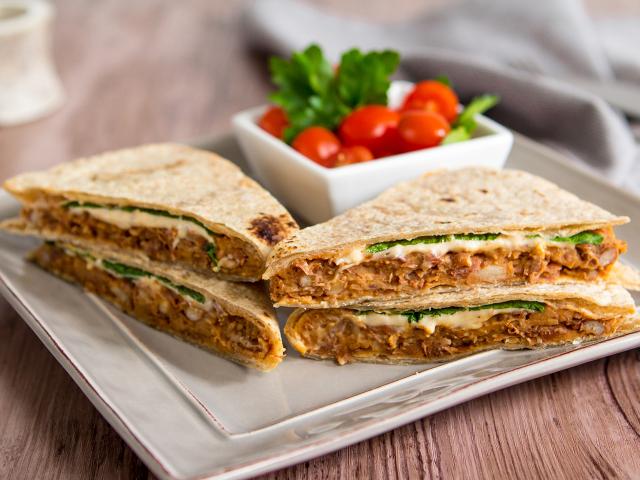 The best thing about making quesadillas is precisely how easy they are to make. But that doesn't mean you have to skimp on the healthy ingredients.
These vegan 'dillas are packed with just as many nutrients as a dinner that would take an hour to prepare.
From Torre Washington, professional bodybuilder and author of the Nourish Nutrition Plan.
Ingredients
3/4 cup pinto beans, drained and rinsed
1 large whole wheat tortilla
2 Tbsp Daiya pepper jack shreds
1 tsp olive oil
1/3 tsp smoked paprika
1/6 tsp chili powder
1 small handful cilantro
5 grape tomatoes
Cayenne, to taste
Sea salt, to taste
Hot sauce (optional)
How to make it
Warm beans in a pot over low heat, then mash with a potato masher, leaving some texture.
Add all the seasonings, 1/4 cup hot water, and olive oil, and stir. Warm tortilla in a large pan over low heat, then, still in the pan, add mashed beans on half of the wrap, and spread evenly.
Top it with the Daiya shreds, cilantro, and cover with the other side, making a quesadilla.
Grill for 3 to 4 minutes, then flip. Once hot, serve with hot sauce if desired.