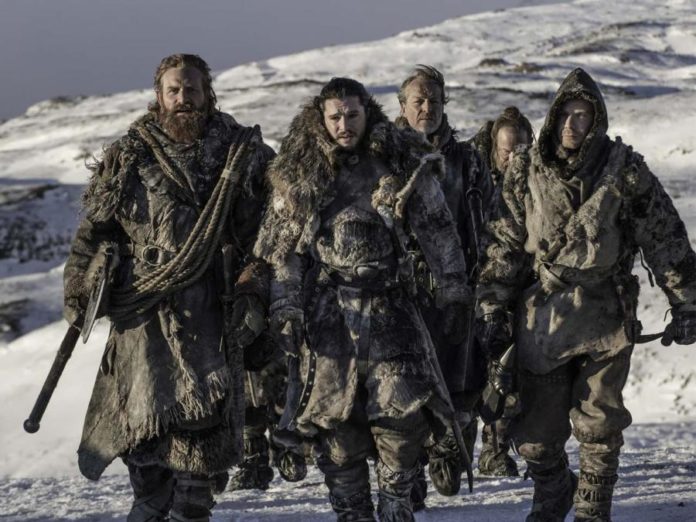 Après la bataille du dragon ardente sur Game of Thrones les choses sont sur le point de faire froid. Congélation, en fait.
HBO a laissé tomber un lot de photos pour "Beyond the Wall", le sixième épisode de la saison et le dernier épisode avant la fin de saison 7 de la super-taille.
La saison des sept épisodes se déplace à un rythme plus rapide que la série HBO n'a jamais vue, et cela signifie que certains événements majeurs pourraient et devraient probablement se produire dans cet épisode.
Dans l'édition précédente, «Eastwatch», Jon Snow (Kit Harington) a rassemblé une équipe de guerriers pour éliminer le plan proposé par Daenerys Targaryen (Emilia Clarke) et Tyrion Lannister (Peter Dinklage): Apporter un morts-vivants Soldat aux Sept Royaumes dans une tentative de prouver la menace de White Walker à Cersei Lannister (Lena Headey).
La neige a rassemblé un véritable Westerosi Magnificent Seven, dont le fidèle chef des libéraux Tormund Giantsbane (Kristofer Hivju), Sandor "the Hound" Clegane (Rory McCann), un Serrora nouvellement duré Jorah Mormont (Iain Glen), le prêtre animé Thoros of Myr (Paul Kaye), Beric Dondarrion à un seul oeil (Richard Dormer) et le bâtard Gendry (Joe Dempsie) qui bat au marteau pour aller au-delà du mur.
Bien qu'il y ait beaucoup de choses au sud du mur, y compris une tension de soeur sur la sœur entre Sansa Stark (Sophie Turner) et Arya Stark (Maisie Williams), l'action semble être centrée autour de Snow et de son groupe Des inadéquats.
Voici un aperçu de l'épisode et des spéculations sur ce qui pourrait arriver à l'avenir Game of Thrones .