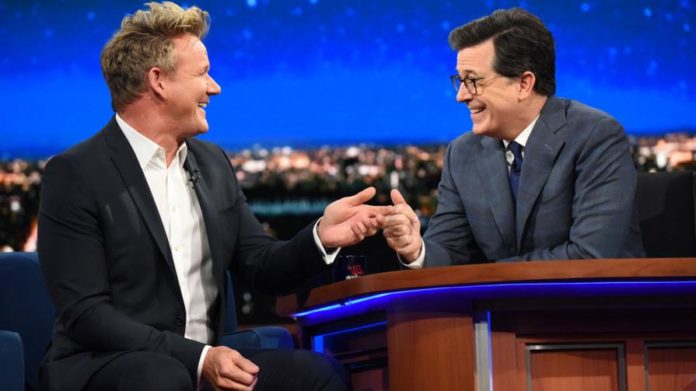 Well, even Stephen Colbert himself is wearing his hair a little looser these days, right? So I'd say do what he's doing now and start growing it out a little bit.
Let it get a little bit longer on the sides (not over the ears), with some scissor work on the sides and looser on the top. Then, to style it: When you get out of the shower, towel-dry it, then either finger it over or use a wide-tooth comb to create a part that's not so hard and defined.
[RELATED1]
Next, you can: 1) let it naturally dry and loosen up a bit, then apply your styling product, or 2) make sure it's nice and dry, put the product in, then finger it through with your hands so you have that not-so-tight look.
And you don't want to look like you just pulled your head out of an oil bath, right? So use a cream-based product, like Malin+Goetz styling cream; Fatboy Perfect Putty or its pomade, which isn't too shiny; or the freeform cream by Imperial.
There's not a real name for the look—the "loose pomp," maybe? It's similar to the way you're doing your hair now, but you're styling it so it's not coming out so flat and close to your skull.
Shorty Maniace is the owner of J.P. Kempt Barber Social in San Francisco. Email him at askshorty@mensfitness.com.
[RELATED2]