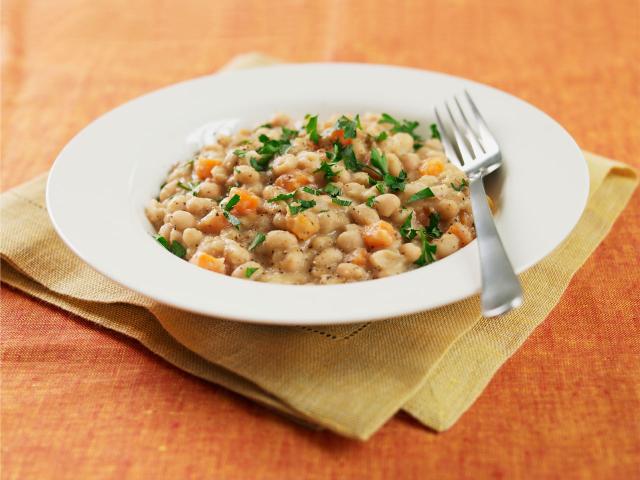 This French-inspired casserole is made with tons of vegetables and cannellini beans, which will give you 9g of protein per serving. If you're looking to add more protein and whole grains, toss in quinoa or add more beans.
Nutrition (per serving)
Calories: 218; total fat: 3g; saturated fat: 0g; protein: 9g; carbohydrates: 39g; fiber: 9g; cholesterol: 0mg; sodium: 489mg
Recipe and photo by Layne Lieberman, M.S., R.D., C.D.N., culinary nutritionist and author of Beyond The Mediterranean Diet: European Secrets Of The Super-Healthy.
Ingredients
2 tsp cold-pressed extra-virgin olive oil
1 medium white onion, diced
2 garlic cloves, crushed
2 leeks, sliced thickly
2 stalks celery
4 medium carrots, cut into 1" coins
4 oz white mushrooms, sliced in half
1 bay leaf
2 Tbsp fresh parsley, chopped
1 Tbsp fresh thyme
Salt (optional) and freshly ground black pepper, to taste
2 (14-oz) cans organic Cannellini beans or Great Northern beans, drained and rinsed
1 tsp paprika
14 oz chopped tomatoes
14 oz vegetable stock
1 cup whole-wheat Panko breadcrumbs
How to make it
In a large saucepan, heat oil and sauté onion, garlic, leeks, and celery for 5 minutes.
Add carrots and mushrooms, and cook for another 5 minutes.
Stir in bay leaf, parsley, thyme, and season with optional salt and pepper.
Add beans, paprika, tomatoes, and vegetable stock to the saucepan.
Simmer, partially covered for 30 minutes or until flavors are blended.
Pour the bean and vegetable mixture into a large casserole baking dish.
Sprinkle with breadcrumbs, and bake uncovered for 10 minutes or until topping is golden brown.