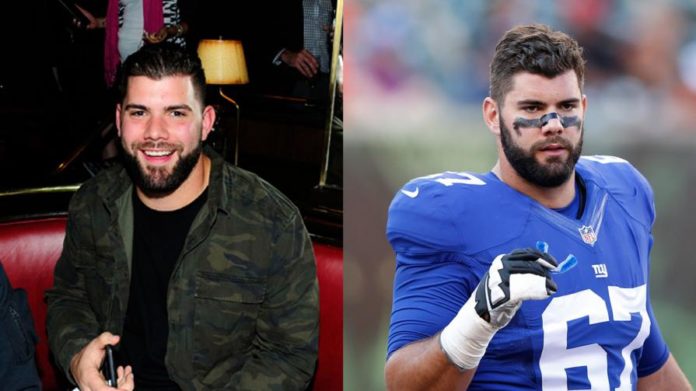 As an offensive lineman in the NFL, New York Giants guard Justin Pugh is always down in the trenches doing the dirty work of slamming blitzing defenders to the turf.
But when he's off the field, Pugh is as clean-cut and well-groomed as anyone in the league.
The 6'4", 301-lb lineman usually sports a close-cropped haircut and a finely groomed beard—and that's by design.
"Don't force anything and make the attributes you have work for you," Pugh tells Men's Fitness. "A lot of guys will try to grow out a beard, and it ends up all patchy and it doesn't work. I'll think, 'What are you doing?' I have a good beard, good head of hair, so I ride that wave. I'm not getting a bowl cut, like I'm Lloyd from Dumb & Dumber. Work with what you have and play to your strengths."
Staying well-groomed is more than just a one-off thing for Pugh—he suggests all guys treat their style and grooming habits as a serious routine.
"Keeping yourself put-together is a lifestyle choice and you've really got to stay on top of it," Pugh says. "It's not just like, 'Oh, this week I'm going to be good. Next week I won't.' It's like working out or anything else—you have keep a good regimen and good grooming habits. Whether that's taking care of your skin, your hair, your beard—it all comes into it."
As for his go-to gear? While he was getting a fresh cut and shave at the Blind Barber in New York's East Village earlier in the 2017 NFL season, Pugh talked about three grooming products he swears by, all from Conair's "ManCrafted" collection: the Conair I-Stubble Trimmer, ConairMan Ear/Nose Trimmer, and the Conair for Men Personal Grooming Kit, which has a detail trimmer.
Pugh spoke with Men's Fitness about his essential style advice, his gameday grooming routine, and why a hat can be your best friend on a bad hair day.
MEN'S FITNESS: What's your gameday or game week grooming routine like? Do you have any "grooming rituals" you always stick with?
Justin Pugh: I try to get everything done before game day itself. So every Friday, before we play on Sunday, I'll get my haircut. I'll trim my beard up and get it looking good. I try to get it done on Fridays, so I don't have to stress about it. Because normally we travel on Saturdays and so even if we're in a different place, I already have my same routine. I get my haircut at the facility and I trim my beard up at home, and it works out perfect for me. Come game day, maybe I'll like take a straight edge and kind of line up my beard a little bit, because that's when you get the five o'clock shadow.
We're playing in front of millions and millions of people every week. So you've got to make sure you're looking good. That one shot in the very rare instance I'd score a touchdown and they zoom into my face—I'd want them to think, 'Ah, he's got a good beard' [laughs], so it works out.
How did you get involved with Conair, and what have you enjoyed about your partnership?
I actually got started as a rookie. My best friend's mom used to work for the company and got me involved. Before we even started things up I used Conair products. Guys everywhere can probably can attest to this, but once you find something that you trust that you like to use, you'll stick with it until the day you die. It was kind of a match made in heaven. I've been using the Conair I-Stubble Trimmer, and it's great. To go out and endorse something I actually use and I can say I personally like, it makes an easy transition.
What's your grooming and style routine when you're getting ready for a night out? What advice do you have for guys looking to stay sharp when they go out?
I just started dating my girlfriend, so I've got to make sure I'm staying on-point, because she'll call me out for it. But when I go out in public it's the same thing about going onto the field. When you're out in public, people are going to meet you for the first time, and no matter what people say, you judge a book by its cover. And you don't want to do that, but at first look you are going to kind of get a thought formed right away, like, 'Oh this person is well-kept-together or they're a bit of a mess.' You have those preconceived notions. Obviously, you can break down those barriers once you get started. But why not start out on a good foot? That's something that I take pride in. Before I go out I always make sure I'm lined up.
What about those days when you're not feeling your best, or having a bad hair or beard day? What advice do you have for dealing with one of those moments?
Sometimes a hat can be your best friend.
No, seriously: When I'm going to work in the morning, you don't have to be dressed up for work in our business. So I've got sweat shorts on and maybe a T-shirt, and I'll just throw a backwards hat on, and then I'm good to go.