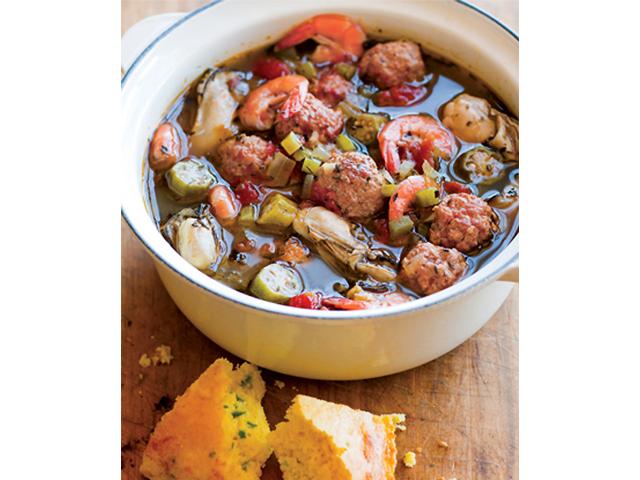 For a spicier homemade alternative to store-bought sausage, make it yourself.
To make an all-time favorite at-home recipe, mix together 1lb ground pork (or ground chicken or turkey for a leaner option) with 1 diced onion, a couple of cloves of minced garlic, 1 small diced chili pepper, plus 1tsp each vinegar, paprika, and thyme, and salt and pepper to taste. Shape into 1″ balls. Cook immediately or freeze and use later.
Nutrition (per serving)
Calories: 429; protein: 39g; carbs: 15g; fat: 24g; fiber: 3g
Recipe and photo courtesy of Victoria Wise, author of the cookbook, Sausage.
Ingredients
1/4 lb okra, sliced into 1/2" rounds
2 Tbsp white vinegar
1/2 tsp kosher salt
3 Tbsp extra-virgin olive oil
1 onion, copped
2 stalks celery, chopped
1 bell pepper, chopped
3 cloves garlic, chopped
1 bay leaf, crumbled
1 tsp dried thyme
1/2 tsp dried oregano
1/4 tsp cayenne pepper
1 cup chopped canned tomatoes, with juice
5 cups chicken broth
1 lb fresh sausage, rolled into 1-inch balls
18 medium-size shrimp
12 shucked oysters
How to make it
In a medium bowl, toss together the okra, vinegar, and salt. Let sit.
Meanwhile, in a large pot, heat 2 Tbsp oil over medium heat. Add the onion, celery, pepper, and garlic, and saute until well-wilted but not browned. Stir in the bay leaf, thyme, oregano, cayenne, tomatoes with juice, and broth, and bring to a boil. Lower the heat to maintain a brisk simmer, and cook for 30 minutes.
When all the balls are added, rinse the okra and transfer it to the pot. Let simmer for 15 minutes. Add the shrimp and oysters, cover the pot, and remove from the heat. Let stand until the shrimp are barely pink and the oysters slightly plump, about 5 minutes.